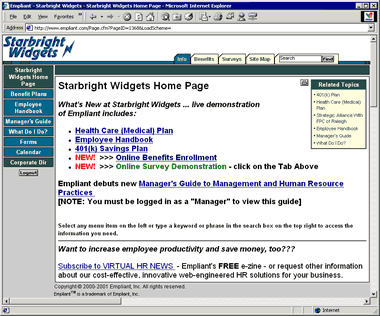 Empliant's Content Management System… information at everyone's fingertips
Our Content Management System intuitively delivers information to your employees and managers when they need it. No need to search all over their home or office for important benefit plan documents, forms, or your Employee Handbook. Whether it is Benefit Plan information, Management policies, practices, or procedures, our CMS is a simple and easy way to store and deliver this information to everyone in your organization.
Empliant's Content Management System includes intuitively guided 'Related Topics' navigation menus and a fully searchable knowledgebase to help users quickly and easily find the information they need.
Eliminate the Paper Shuffling…Use our Content Management System to help you get control of your time… by enabling employees to access basic information on their own, from their desktop, or any mobile device.