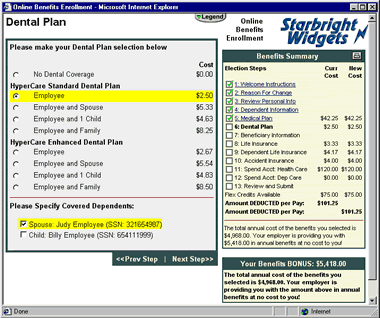 With Empliant's Online Benefits Enrollment and Administration Services, employees can…
make benefit elections and changes online
cost model payroll deductions based on coverage selected
print a summary of benefits elections at any time
use "help me decide" links to inform, educate, and assist decision-making
Each step of the way, Empliant leads users through the benefits election process and shows how much they will contribute for the benefits elected, and how much the Company pays, too.
And Human Resource Administrators can…
view all employee enrollment sessions with a "from – to" changes screen
batch process all employee submitted enrollment sessions
run reports with a single mouse click at any time
view records of all historical transactions
track employee sessions with complete audit controls
Stop shuffling paper… Get control over benefits enrollment and eligibility… Access employee information anytime and anywhere you need it.
Getting started With Empliant is easy: No up-front costs, no long term contracts, affordable monthly subscription, and your satisfaction is guaranteed. Don't put it off any longer, contact us today and experience a better way to use Online Benefits Enrollment and Administration.